ALONE WE GO FASTER,
TOGETHER WE GO FURTHER
Allow yourself to be accompanied by experts for optimal financial management.
FINANCIAL MANAGEMENT AND OPTIMISATION FOR CORPORATES
✓ Cash Management
✓ Strategic steering
✓ Risk management
✓ Accounting constraints
✓ Balance sheet analysis and forecast
✓ Digitalisation of processes
✓ Optimisation of margins and costs
✓ Predictive and ad hoc analysis
✓ Business partner et business intelligence
✓ Performance management
PUBLIC AND PRIVATE FINANCING
✓ Debt
✓ Cost optimisation
✓ Grants and preferential loans
✓ Fundraising
✓ Leverage analysis
✓ Transition management
✓ Lean Management
✓ Automation
✓ Data Science
✓ Project Management
FINANCIAL WORKFORCE OUTSOURCING
FINTIS Advisory offers you experts in financial management with proven experience tailored to your industry, ensuring sound management.
Avoiding treasury problems by anticipating them
Acquiring reliable skills in crucial financial roles to instill investor confidence and facilitate fundraising efforts.
Aligning management's objectives and ambitions with a clear business model.
Optimising the price-cost ratio.
Financial forecasts and sensitivity analysis.
Comprehensive financial reports o provide transparency to investors and partners (this limits the risk of conflict related to the financial management by a partner for example)
-> Confidence concernant la gestion financière permettant de se concentrer sur le
développement de l'activité et d'éviter une surcharge de travail pour les dirigeants.
ALM MANAGEMENT, FINANCIAL
AND REGULATORY OPTIMISATION FOR BANKS
LIQUIDITY AND CASH MANAGEMENT
✓ Strategic steering
✓ Modelling and forecasting analysis
✓ Accounting constraints
✓ Cash management and cash pooling
✓ Optimisation of the liquidity reserve
✓ Analysis of indicators
✓ Decision-making tools
✓ Participation in ALM committees
✓ Training
✓ Production
RISK MANAGEMENT AND RESULT IMPROVEMENT
✓ Earning-at- risk, Basel 4 adaptation
✓ Income sensitivity, stress tests
✓ Optimisation of the NIM
✓ Predictive and ad hoc analyses
✓ Liquidity : LCR, NSFR…
✓Rates : IRRBB, Gap …
✓ Credit : IFRS 9 Forward, CRR3…
✓ Transition management
✓ Lean Management
✓ Automation
✓ Data Science
✓ Project Management
CONSULTANTS AND EXPERTS AT YOUR SERVICE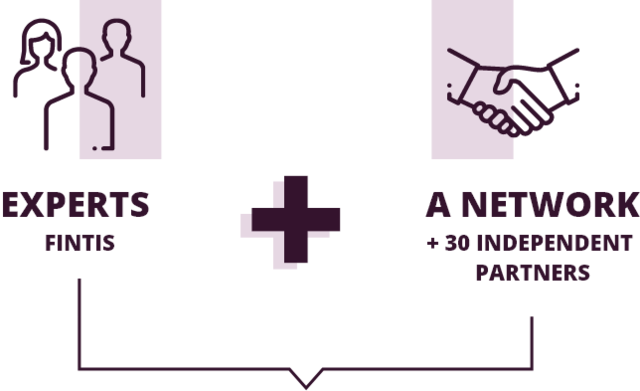 FINTIS experts aligned with your specific challenges
active in many economic sectors : industry, services, financial institutions, health and many others.
OUR LOCATION IN PARIS AND LYON
CONTACT PARIS OFFICE
Phone number
+33 1 45 62 09 57
Adress
42 rue de l'Amiral Hamelin
75116 PARIS
CONTACT LYON OFFICE
Phone number
+33 4 28 29 50 06
Adress
41 Quai Fulchiron
69005 LYON
DON'T MISS
OUR BEST TREASURY
INVESTMENT OPPORTUNITIES
Suscribe to FINTIS Treasury newsletter